On February 2, 2014, Miriam Edwards of Guyana Sex Work Coalition, Joel Simpson of Society Against Sexual Orientation Discrimination (SASOD) and Quincy McEwan Guyana Trans United discussed the need to decriminalize sex work in the program Round Table with Janelle Persaud, aired over NCN Chanel 11.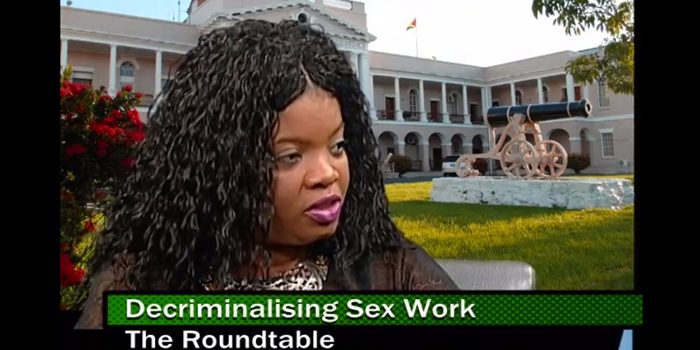 Sex work remains illegal in the country, rendering sex workers vulnerable as they are unable to access health care services, including HIV/AIDS services, and other state services since revealing their profession could put them at risk.
Guyana Sex Work Coalition provides peer-to-peer support and training to sex workers of all genders in Guyana and the wider Caribbean region to build their knowledge and confidence to stand up for their rights. The group advocates for the protection of sex workers, beginning with the recognition of their work as work, their protection against police violence and their access to HIV prevention information and services, anti-retroviral drugs and other health services.
As Miriam asserts, "Sex work is work. Sex workers want to be accepted in society as a human being."
Stigma, discrimination and violence increase the vulnerability of sex workers to HIV/AIDS. While health care is free in Guyana, the attitude of many health providers towards sex workers, gays, and trans persons keep the latter away from availing of existing services. One member of the Coalition was even banned from the main HIV/AIDS clinic and denied access to ARV when he sought medical attention.
Aside from ensuring its visibility in the media, the Guyana Sex Work Coalition partners with existing health facilities including hospitals and trans health providers as a strategy to reduce stigma and discrimination against sex workers. They also equip sex workers with information on HIV and AIDS, correct and consistent use of condom and condom negotiation.
The Guyana Sex Work Coalition is a grantee of the Red Umbrella Fund.
By Nadia van der Linde, Red Umbrella Fund
---
This is crossposted from http://hivadvocates.net/advocacy-stories/reducing-cultural-stigma/round-table-on-decriminalising-sex-work-in-guyana/